Salt Water Pool For Your Backyard
Recently we were intrigued by a homeowner's backyard salt water pool. In fact, the idea of a salt water pool versus a chlorine pool was a hot topic here at our RE/MAX Legacy office. We just had to know if swimming in a salt water pool is like taking a dip in the ocean.
The answer? Well, it's complicated. A salt water pool is sanitized differently than a chlorine pool, so the aim is to reduce the dependence on chlorine rather than create a beachy, seaside experience. But just look at this gorgeous salt water pool at this home we're listing!
When you have access to a backyard pool like this, it's hard to imagine you would mind either the salt water or chlorine option.

And, we did learn a few more things about a salt water pool. It can be kinder to skin than the typical chlorine-treated pool, but know that chlorine still exists.
In a normal chlorine pool, chlorine tablets are added for sanitization. If you decide on the salt water route, you'll have to buy a salt water chlorinator. And, through a process called chemical electrolysis, chlorine is created to help the pool stay sanitized.
Definitely talk to a swimming pool company if you'd like a more detailed explanation of how salt water pools work. And if you're interested in this home with the nice salt water backyard pool, text us! We'd love to chat or set up a showing! The number is 765-274-4781. Have a great summer!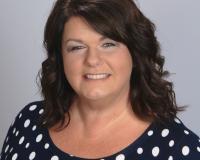 Author:
Julie Schnepp
Phone:
765-617-9430
Dated:
July 9th 2018
Views:
472
About Julie: Co-Founder and President of the RE/MAX Legacy Team Throughout her career, Julie has received many...