Gathering Grounds Coffee Shop
Have you ever been to Gathering Grounds Coffee Shop downtown Pendleton? New owners Justis & Mitchall Hall have a great vision for this shop and will be unveiling a new name in February.
Here is their story.
"Mitchall and I met when I was 3 and he was 6. Now, we've been married for almost two years and have our perfect little zoo at home. I started working at Gathering Grounds Coffee Shop in 2013. I have always worked for small businesses and loved the idea of working at a coffee shop! Dave and I were working together one morning and he mentioned selling the shop. I asked him if he would give me the opportunity first and thankfully he said yes!!! Mitchall and I were very excited about this opportunity. Mitchall's dad and my mom are both entrepreneurs, we have always wanted to follow in their footsteps.
We are now purchasing our food on a daily basis from Sunrise Bakery in Fortville, all of our food is freshly baked and made with all natural ingredients. We also plan on putting out some seasonal and specialty lattes. When I got the job at Gathering Grounds I thought it would be fun to learn Latte Art. It's all about knowing how to pour the milk and getting the right consistency while steaming the milk. Latte Art is what keeps making lattes fun for me!
When Mitchall and I purchased the shop, I knew I wanted to give the shop afresh, clean, and more modern look with a twist! We de-cluttered, painted, and got some new furniture and lighting. We also rent out the coffee shop after hours for events, parties, showers, and more! There is a flat hourly rate and it includes a barista. A few years ago, we would have never thought this would be what we are doing, but we are so grateful for this amazing opportunity! Stop in and see us!"

"I have known Justis since she was born, her mom Christi Kelly and I have been life long best friends. Justis and Mitchall are loyal clients of ours." - Julie Schnepp

124 West State Street
Pendleton, IN 46064
Monday - Friday: 7 am - 12 pm
Saturday: 8 am - 12 pm
765-778-3423
http://www.ggcoffeeshop.com/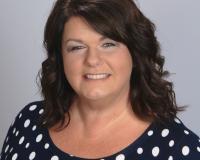 Author:
Julie Schnepp
Phone:
765-617-9430
Dated:
January 20th 2016
Views:
1,886
About Julie: Co-Founder and President of the RE/MAX Legacy Team Throughout her career, Julie has received many...